We have started our week with the very exciting arrival of the chick eggs!! On Wednesday we got to see 4 of the chicks hatch out of their eggs and by Friday they had all hatched! We even captured a video of one of the eggs hatching! 🐣 Some excellent home learning inspired some of the children to make life-cycle posters of their own, which have been displayed around the chicks for Year 1 and 2 to see. We also made some chick artwork and the children were very creative, choosing to use feathers and Googly eyes!
Miss Cotterell managed to capture the moment one of our chicks hatched!
This week, we have also been learning about the 3 essential things that flowers and plants need to grow. We each planted our own sunflower seed and watering them to help them grow. Over the next two weeks we will be keeping a close eye on their progress and then they will hopefully be taken home to continue growing!
In R.E. this week, we have been learning about the true meaning of Pentecost. We reflected on the amazing gift that Jesus gave to His friends, the Holy Spirit.
On Thursday, we were so excited to welcome the Year 6's down to the Early Years to celebrate finishing their SATS! The children played together so well and it was lovely to see how mature Reception already are. One reception child even said "I've made a new bestfriend!".
Also on Thursday, Class RM had a visit from Father Andrew, who spoke to the children about 'good news'. The children contributed some lovely ideas and Father Andrew received a lot of deep and thought provoking questions about who created us. Father Andrew will be visiting Class RC next week!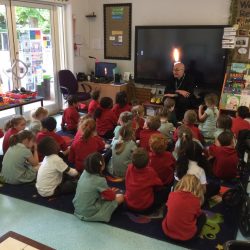 Finally on Friday, after a very busy week, we all relaxed to some music in the classroom and made some observational drawings of our chicks! The children thought carefully about the colours they needed to use and their results are amazing! Below are some examples!