Latest News - Catholic Life
Remembrance Day 2021
This week, the children have all had assemblies about Remembrance Day and as usual, we will hold a moment's silence this Thursday at 11.00am, to reflect, pray and remember those brave men and women who fought or helped in WW1 , WW2 and in more recent wars.  The children have all been very respectful and thoughtful.
They shall grow not old, as we that are left grow old:
Age shall not weary them, nor the years condemn.
At the going down of the sun and in the morning
We will remember them.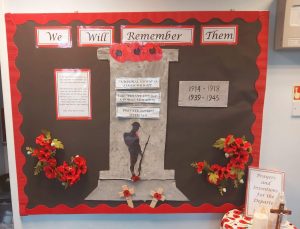 Listen to some of our Chaplaincy Team who had read the beautifully written and illustrated book, 'Where the Poppies Now Grow'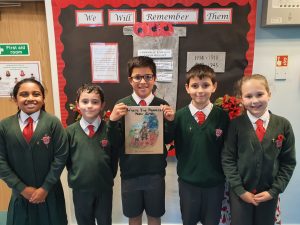 https://www.youtube.com/watch?v=ILH08MsD6S8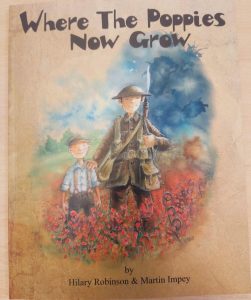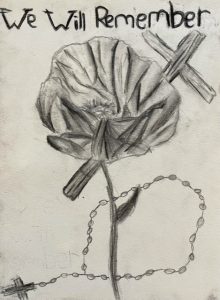 Our New Mission Statement 
We are so delighted to announce the first new mission statement for
St Alban & St Stephen Catholic Primary School & Nursery.
Our Mission Statement as composed by Class 4N and voted by our school community is:
'Learning and Growing with God by our side'
Our Core Values:
Faith
Friendship
Determination
Respect
Unity
St Alban & St Stephen Primary is a Catholic school in which each individual grows in the knowledge and love of Christ. In partnership with parents, the parish and the whole community, our purpose is to provide a high standard of education, giving the maximum opportunity to realise each person's potential.
Our Catholic faith is experienced and reflected in the way in which all members of our community treat each other. We place great importance on relationships and positive behaviour, encouraging respect, co-operation and consideration.
Our Core Values – Living God's Word
Faith is seen in our school as we live by God's word and it is faith that brings our Catholic community together. We are a Christ centered school, and value each member's contribution to our own faith journey.
Friendship is seen in our school shining through in our relationships to help form our ethos. We are all united by loving and respecting one another.
Determination is seen in our school by the desire of the pupils to succeed and excel, aiming to be the best that they can be. We build resilient learners and help our pupils reach their full potential.
Respect is seen in our school in the way we treat one another in our school community and our global community. There is an understanding and acceptance of the wonderful diversity and cultures in our world. We learn to respect God's creation of the world and learn how to grow into responsible global citizens.
Unity is seen in our school through the importance of the role of the home and the parish working together with the school to provide the best support in which our pupils will thrive.
At St. Alban & St Stephen Catholic Primary School & Nursery we strive to live and learn through these values in all that we think, say and do!
!
Blessing our Primary School
To mark the beginning of the school year as a brand new primary school, Fr Michael and Fr Julian joined staff on our INSET day to bless both buildings. It was a very symbolic and moving service and was attended by all school staff.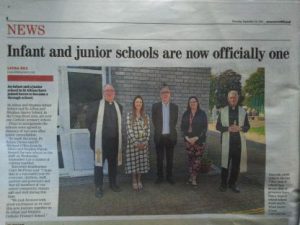 Here is our new school prayer
The Chaplaincy Team have written a school prayer which is said in assemblies and has been shared with the whole school.
Dear God,
Bless all the children and staff in our school.
May we all work together to learn valuable lessons.
Bless all our loving parents, our school community and parishioners.
We thank you for all our kind friends and hardworking teachers.
Let us follow the shining examples of St Alban and St Stephen.
Help us to be the best that we can be and guide us as we stay connected to you and Jesus in all that we do.
As a school, we live, love and learn with God in our hearts.
Amen.
Our House Saints
To mark this new period in the history of the school, we changed the house saints. Saint Peter as the foundation of the church. St Paul to represent the power of God to transform. St Teresa of Calcutta to represent servitude and charity and St Bernadette to represent faith, prayer and the importance of Mary. The children all did work on the different saints and they were put in house teams across the whole school.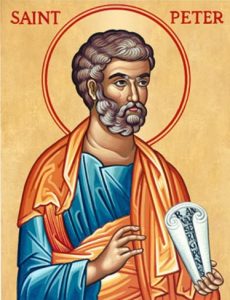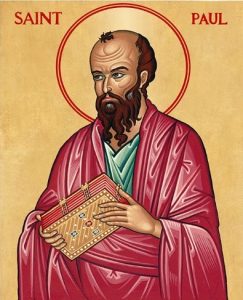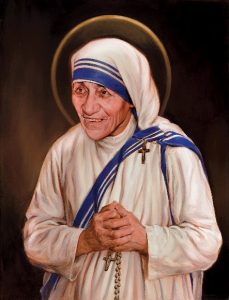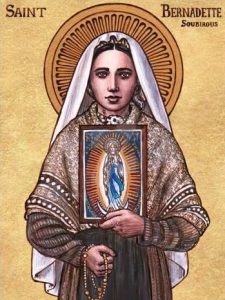 Specially commissioned statues of St Alban and St Stephen are currently being made and a special ceremony will take place to bless the statues on their arrival.
Lenten
Advent and Christmas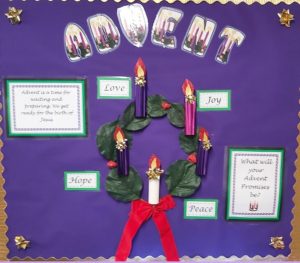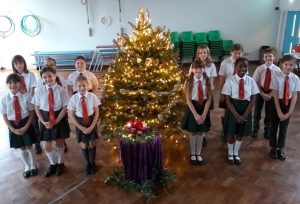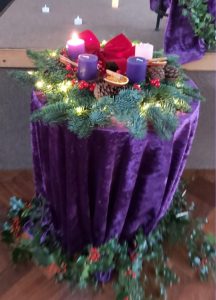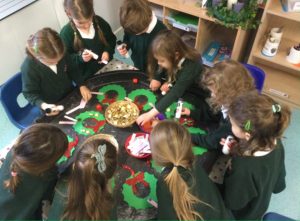 As we begin this season of Advent, we think about how we can prepare ourselves for the birth of Christ. We think about our Advent Promises and how we can work towards spiritually preparing our hearts. The Chaplaincy Team helped lead a wonderful assembly where we dressed the tree and also learnt about the importance of the Advent Wreath. We joined together in year groups to pray and to begin this special season. In class, the children have all done some wonderful work learning all about the Advent Wreath and its symbolism.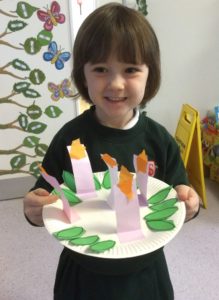 Each week in Advent, the Chaplaincy team will make presentations to share with the school about the prayer focus for that week. Their work can be found in the Chaplaincy News section of the website.
All the classes across the school are busy preparing Nativity songs and learning carols. The school is alive with songs and excitement as we get ready for Christmas and the birth of Jesus!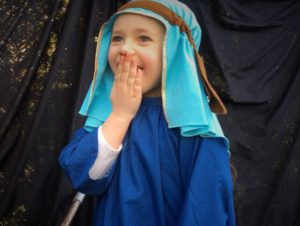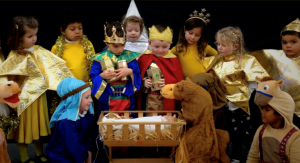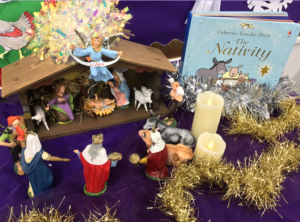 KS1  Choir
Year 3 Choir
Remembrance Day
To mark Remembrance Day, the Chaplaincy Team led a very solemn and reverend assembly with the rest of the Year 6 group. All across the school assemblies were led and work was done in class to mark the anniversary. The children wrote wonderful prayers and did some beautiful creative writing and artwork connected to the war.