"Our Mission is to learn and grow with God every day and in everything that we do in our lives. In all aspects of our school life, we try to actively follow in Jesus' footsteps. We live out our faith as a Catholic community by demonstrating our core school values in our everyday lives"
Our School Mission Statement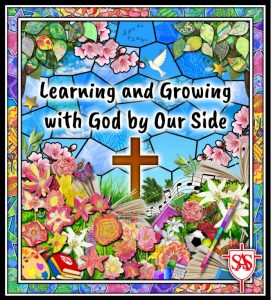 Our School Mission Statement was created by the Pupil Chaplains following the amalgamation of the Infant and Junior Schools into a single Catholic Primary School.
Our beautiful mural on our Lower Site displays our Mission Statement to welcome all visitors to the School.
Our Core Values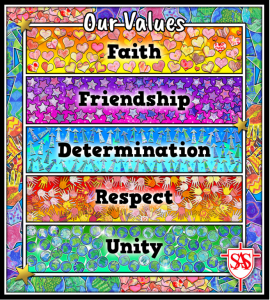 At St. Alban & St Stephen Catholic Primary School & Nursery we strive to demonstrate these values in all that we think, say and do as we grow and learn as a Catholic community with God by our side!
Faith is seen in our school as we live by God's word and it is faith that brings our Catholic community together. We are a Christ centered school, and value each member's contribution to our own faith journey.
Friendship is seen in our school shining through in our relationships to help form our ethos. We are all united by loving and respecting one another.
Determination is seen in our school by the desire of the pupils to succeed and excel, aiming to be the best that they can be. We build resilient learners and help our pupils reach their full potential.
Respect is seen in our school in the way we treat one another in our school community and our global community. There is an understanding and acceptance of the wonderful diversity and cultures in our world. We learn to respect God's creation of the world and learn how to grow into responsible global citizens.
Unity is seen in our school through the importance of the role of the home and the parish working together with the school to provide the best support in which our pupils will thrive.