St Albans Empower Programme
Thursday 28th April 2022 – 5pm – 6.30pm (24 weeks)
Please find attached some information about 'Empower' a 3-year project that is funded by Comic Relief, meaning that every session is absolutely free!
Empower is a project (24 weekly sessions) that aims to improve young people's mental health through the use of physical activity. Each session is 90 minutes in length and consists
of 60 minutes of physical activity, typically in the form of a sport session such as dodgeball, football, basketball, badminton or dance. Following the physical activity,
we complete a 30-minute wellbeing workshop, which is a facilitated conversation between participants, Watford FC Community Sports, and Education Trust Coaches and
a NESSie psychotherapist. The aim of Empower is to improve young people's wellbeing by helping our participants to manage their emotions and understand their triggers,
increasing participant's resilience and protective factors and offering a further support network for these young people. Each session is mixed gender and will have 16 young
people aged between 9 and 12.
---
DSPL7 Spring 2022 Parenting booklet.
DSPL7 Spring 2022 Parenting booklet
---
Just Talk Week , 15 – 21 November 2021
Over 35 partners in Hertfordshire work together to promote good mental health and wellbeing as part of the Just Talk campaign.
Listed below are the FREE webinars on offer from our Just Talk partners, taking place for Parents/Carers during Just Talk week.
Just Talk Week information Nov 2021
---
Covid
If you're child or young person in a mental health crisis: Crisis Support
Covid-19 resources: Supporting parents to make the most of home learning: EEF Covid-19 resources for parents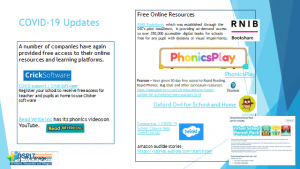 Spot the Signs & Emotional Wellbeing is a fully-funded programme offering training and workshops to children and young people
Spot the Signs & Emotional Wellbeing – Training and Workshop Menu. To book see www.eventbrite.co.uk/o/hertfordshire-mind-network-26443271185
Bodies – a team of nutritionists and behaviour change experts who run weight management programmes for children and their families across Hertfordshire.
Weight Management Programme
There are a lot of free online courses for parents of children with ADHD, ASD and behavioural and emotional issues.
Facebook Lives
Families in Focus SEN
Natural Flair
Indoor Activities
General Resources
Supporting Children with LD & ASD with COVID Isolation
SEN links and resources
Scanningpens info for parents
Managing the transition to home schooling
Home routine
Free Clicker and DocsPlus access
English
Supporting your child with spelling difficulties at home
Supporting your child with reading difficulties at home
Supporting your child with handwriting difficulties at home
Paired Writing
Paired Reading
Helping your child to generate ideas for writing
Alternatives to Writing
Free online resources to support learners with phonics
Maths
Supporting your child with maths difficulties at home
Useful websites to support your child with maths difficulties at home