Anti-bullying performance and workshop
This week, KS2 watched a fabulous performance about anti-bullying. The 4 performers did a fantastic job to show the effects this can have on the victim(s), and also show some of the reasons why a bully may behave as such. Afterwards, Year 5 were fortunate to have the same performers lead a workshop which further explored the themes from the performance, and allowed the children to answer questions about what they had watched, discuss their answers and reflect upon what they would do in similar situations. The performance gave us all a lot to think about, especially in advance of anti-bullying week next week.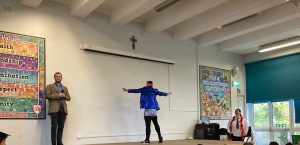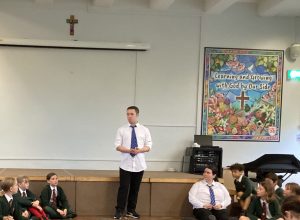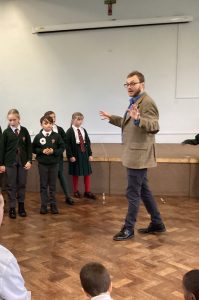 Remembrance Day Assembly
Today, we watched a live assembly in honour of Remembrance Day. We got to see lovely artwork (diptychs) various school children had produced, and heard the story of some people in the RAF. Both classes then stood with the appropriate reverence for a 2 minute silence.
RE: CST (Catholic Social Teaching)
Of the 6 areas of Catholic Social Teaching, in our RE lesson today we focussed on Community and Participation. We looked at and discussed the meaning of some Biblical references such as that of John 13:34-35 which says, 'Love one another: just as I have loved you…By this all people will know that you are my disciples.' Afterwards, the children used Google Slides to research a local charity and write about what they do and how they help the community, as well as how their work fulfils Christ's direction for us to live in the community with one another.
Have a lovely weekend!
The Year 5 Team