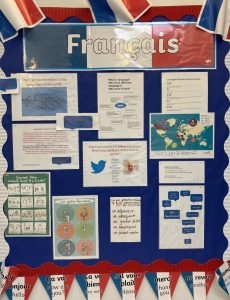 Salut tout le monde, et bienvenue au hub français! This is where you will see what we have been learning in French, and find links to various resources and games that you can access at home to have fun and keep learning at the same time! A great place to start is: www.Educandy.com. Look out for the Educandy codes in class and in the newsletter to play lots of games linked to our topics.
BBC Bitesize is another fantastic resource for KS2 learning. It is topic based, with useful vocabulary, tips for pronunciation and lots of games to play. BBC KS2 French Virtually There Class Clips are accessible and fun short film clips. They follow an English boy, Ben, and his French friends, covering a wealth of topics from hobbies and pizzas to colours and clothes. Some catchy songs here too!
Finally, www.french-games.net, has a huge variety of topic based online games to play for free.
Amusez-vous bien!