This week we have had great fun learning about and celebrating King Charles' Coronation ready for the Coronation itself on Saturday.
We learnt what a Coronation is and what will happen during the Coronation. We have had fun making our own crowns, having role play coronation tea parties, creating our own union flag bunting and learning a Coronation song (if you would like to sing it at home it is called on YouTube, Called: "To the sound of trumpets (Coronation song) – Out of the Ark Music").

We were really lucky to have the Year 5 children join us for our celebrations and a special treat this afternoon- thank you Year 5!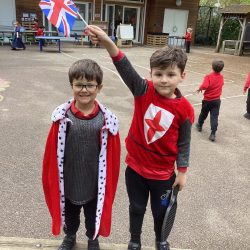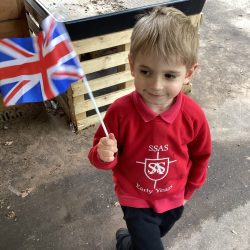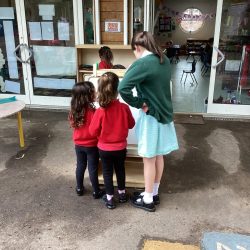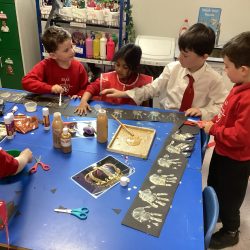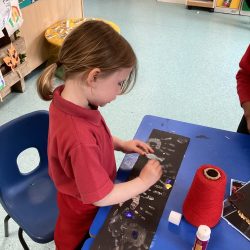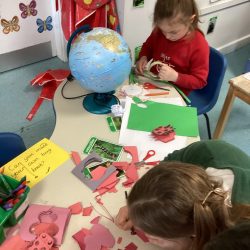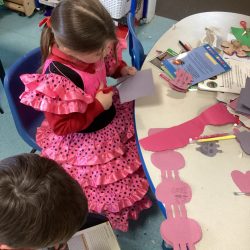 What a very short week we have had in Nursery. Our story of the week was "Aaaargh! Spider". It is all about having a pet spider. The children have made their own pet spiders – they are amazing and all so unique (however, they should all have 8 legs)! We have been learning some facts about spiders: how many legs and eyes they have, what their web is for and what they like to eat.
Nursery attended the KS1 assembly today to celebrate and worship Mary. It was a lovely assembly put on by Year 1 during which some of the children laid flowers around Mary's statue to honour her.
To finish up our week, we celebrated the King's Coronation. We made crowns and had a special treat to mark this important day.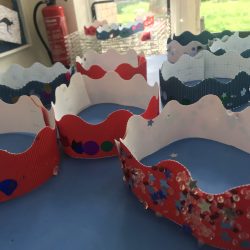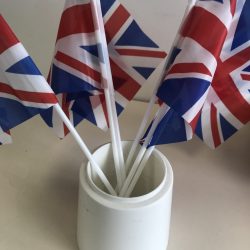 Enjoy another extended weekend and see you all on Tuesday.