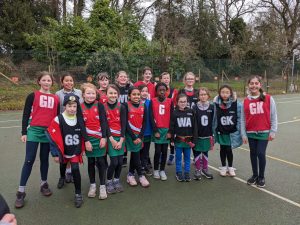 Report by Isabella and Emmet Year 6:
On Saturday 5th March, SSAS Netball club competed in the District Netball Tournament.  Many schools were included and it was a great opportunity to play competitive netball matches.  We were part of the YELLOW Team and to kick off the fun filled morning we played Garden Fields back to back.  We won 4-2!  We played our next match and drew 2-2.  For our third match we played STAH's, they were amazing and slaughtered us 9-0.  They were a great team and deserved the win.  Lastly, we played Alban City and won 5-0.  We set off to the top courts to hear the results and were told that the first and second teams would get medals.  In third came Garden Fields, in second came SSAS, yayyyyyy, we each got a silver medal!  The winners were STAH's.  We all agreed they were an amazing group of netballers.  Congratulations to our RED team who came 4th in the other competition and to Garden Fields for winning the trophy.  We all had a fantastic morning, thank you to our netball coaches for supporting us.
Coaches Players for Yellow were: Florence for her effort in defence, Isabella who was incredible in attack and Emmett for his fabulous shooting in the last match
Coaches Players for Red were: Emily who kept her cool throughout the games and Chiara who "really went for it".
A lovely message from the coaches finished off a wonderful morning of netball who praised both teams for their Fantastic Team Spirit and the parents who were absolutely brilliant!