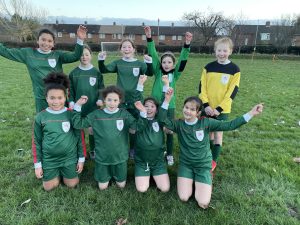 This week the Football League started up again. Up until now we have been unable to take part in any sporting events but this week the girls football team exploded onto the pitch.  Bowmansgreen was our first game with two great goals coming from Amelie and Elodie.  The team worked hard on a very muddy pitch and unfortunately lost but excellent play from Amelia who was voted Player of the Match from the opposition and Elodie receiving the Coaches Player.
The second game of the week was against Oakwood, with only 7 players available the team were without any substitutions.  This meant the girls were challenged physically on another muddy pitch.  Against a very strong opposition and despite a number of good attempts on goal, the ball did not find the back of the net for us this time.  Although  another lose, the girls should be proud of their resilience to keep going.  Coaches Player was awarded to Ailish.
Well done to all who played!