This week the agenda was all about promoting Girls in Sport and we were lucky enough to welcome a qualified Boxing coach into school.  The aim is to inspire girls to make sport part of their lives, help them recognise the power of having friends with a mutual goal and engaging in different sports.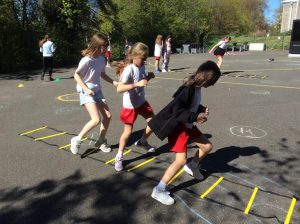 Girls from Year 5 and 6 enjoyed a tough workout and learnt some of the basic moves to this exciting sport.  Armed with boxing gloves the girls certainly had an insight into the dedication needed to be a top Boxer but also how much fun box fitness can be as a tool to keeping active.
I think we may even have a couple of world champions in the making! 
👊