RE: Judaism
This week, the school has learned about Judaism as part of their RE lessons. Year 5 have learned about the Jewish Spring festival of Passover and the significance of the six food items on the seder plate.
Guided Reading
Linked to our work on Ancient Greek Myths in English, the children have been reading about various quest myths, including Perseus and Medusa, and Theseus and the Minotaur, and answering a variety of comprehension questions based on the text.
Computing
In today's e-safety lesson, the children looked at online communication, the advantages and disadvantages of communicating online, as well as how the use of emojis, memes and GIFs can be misinterpreted. The children finished the lesson by captioning a picture to create their own meme.
PE
The children have done strength circuit training today completing a series of activities for a minute each.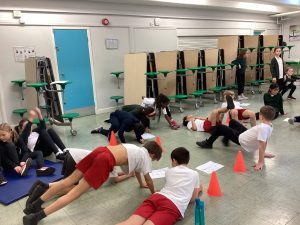 Reminders
Miss Sophia, our Environmental Tutor, will be working with Year 5 next Friday 24th November. On this day, please send your child in with either old trainers or wellington boots, and a waterproof coat with a hood, as we will be going outside.
Have a lovely weekend!
The Year 5 Team