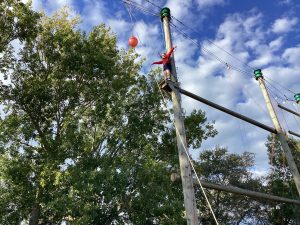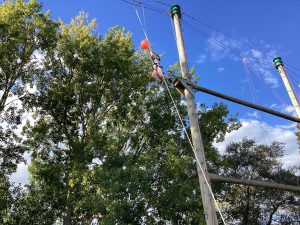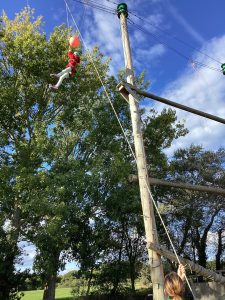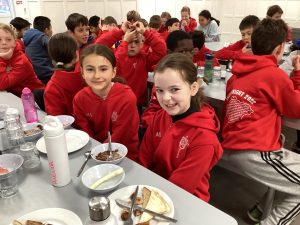 After another delicious cooked breakfast, the day started with two groups braving the bracing weather to go bodyboarding. They put on their wetsuits, grabbed a board and hiked down to the beach. The sun was shining and even though the water was chilly they had a fantastic time in the waves.
Some groups then did fencing and learned the skills of wielding a foil. Afterwards, there was a short competition to see who had mastered their skills the quickest and was a swashbuckling superstar!
Jacob's ladder was one of the most daunting yet popular activities so far. Using teamwork, the children had to climb 30ft in the air, clinging and pushing up from rungs that became increasingly spaced further apart. One method of assisting their teammates was to 'propose' to them! This entailed one partner keeling down as if proposing, while the other partner used their leg as a step to reach the next rung up.
After a busy morning, the children ate a delicious burger and chips lunch, then had some free play and hit the shops! We're sure you'll be seeing several of their souvenirs returning home,
Another activity the children completed was buggy building. Isabelle, Saoirse and Elodie had this to say: "We felt like we were in The Flintstones – Yabba Dabba Doo! Teamwork was the key to success. We used poles, barrels, rope and a plank to create a buggy, and after tying it together using a newly-learned figure 8 knot, we got to ride in it, being pulled along by our teammates. The activity brought us together."
Saoirse, Elodie and Isabelle also commented on another hugely popular activity: The Leap of Faith. They said, "It made us feel confident and like we could fly. It was nerve-racking climbing all the way to the top, but we felt great relief when we were standing on the platform, ready to jump. Jumping off was surprisingly easy and fun and we felt really proud when we were able to hit the buoy."
After a thrilling but tiring day, the children returned to the cafeteria for nuggets, diced potatoes and chocolate ice cream. Then then rounded off the day with the highly anticipated disco where they boogied with their friends, before finally trekking home and falling into bed.