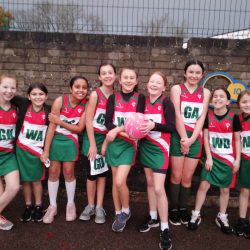 The netball team have been in action this term with their first game against Fleetville Juniors. The team fought a tough game and everyone had to play well from the start. The first quarter finished without a goal, but during the 2nd quarter both sets of shooters were on fire with the score 2-2 at half time. In the second half, SSAS pulled out some fantastic play to finish the game as 5-4 winners. Well done to Lois who picked up POM and Armi who was awarded CP.
The next game was against Windermere and the team continued their winning ways by an enatic 12-1 win.  Cunningham Hill was our next opponents and hardest opposition, in a tense game it finished with a loss to SSAS of 2-3.
More games are scheduled for the second part of the season and the team is looking forward to continuing their winning streak.