What a great feeling to have School Sports back to normal.
This week the Girls Football team had their first friendly fixture against Wheatfields.  With only one week of training under their belt the first 10 minutes was a bit of the shock, however the girls with smiles from ear to ear, showed their resilience and by the second half where looking more confident.  This year the girls have entered a league so with several fixtures already in the diary they are looking forward to a fun season.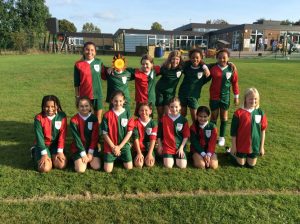 On Thursday the Cross Country season started at Colney Heath school.  The league is made up of 5 different courses and runs to March next week.  The afternoon was hot and the course was long but each and everyone of the children performed really well.
Well done to all our sporty pupils!