Year 5/6 Cricket Event
The Year 5 and 6 girls went to Clarence Park to compete In a cricket tournament. None of them had ever played before so this was a great experience for all of the girls. There were 18 schools competing, and it was the largest tournament we've entered so far this year! To come third within our group is a great achievement. The girls narrowly missed out on 2nd place to get through to the next round of games. What an amazing effort from the girls! A shout-out to Emerald who was our best batter on the day.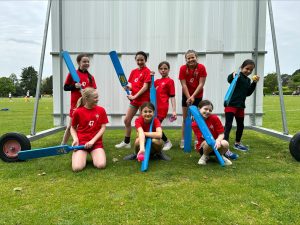 Year
 3 /4 Tennis Festival
The Year 3 and 4 boys and girls went to Oaklands College to compete in a tennis festival. After much practice in the heat, they finally started getting going. All of our players were extremely impressive, and they showed amazing teamwork in all the activities which led us to winning the whole festival! Everyone came away with medals- what a wonderful achievement! Special shout-out to Ben and Agatha who played tennis before the day and led our team to win.