Last week on All Souls' Day, we remembered people we no longer see and created our beautiful School Remembrance Books. This week, we remembered people who lost their lives in the two World Wars and those who continue to suffer in wars across the world. On Friday, our Year 5 Pupil Chaplains led a beautiful and reflective Remembrance Day assembly on our Lower Site, sharing the poem 'In Flanders Fields' by John McCrae, praying for peace and an end to war and leading the one minute silence at 11am. On our Upper Site, pupils took part in a live interactive assembly led by the British Legion. Reception and Nursery also held a special assembly and painted some poppy pictures. Throughout this month, we will continue to remember all those who are no longer with us, using our School Books of Remembrance to help us.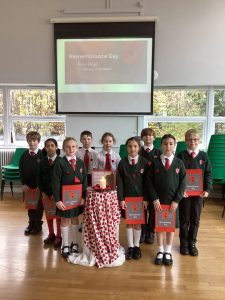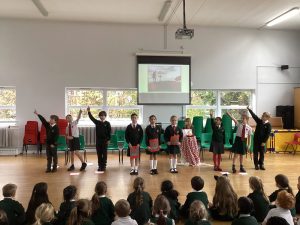 Dear God,
Thank you for the many happy memories we have.
We are sorry that some people have sad memories at this time of year as they remember those who have died for their country.
We pray for peace across the world and an end to war. May we wear our red poppies with love and compassion. May we remember together and be thankful.
May we follow in the footsteps of Jesus, the Prince of Peace, and bring peace to everyone we meet.
Amen.