The Sisters of Mercy are an international order of Catholic women founded in 1831 by Sister Catherine McAuley in Dublin. In 1899, the Sisters of Mercy came to St Albans and opened a special rest home for working women. The next year in 1900, a wooden hut was built in the garden as a school for Catholic children. Soon, the home and school were much too small for all the women and children who needed help. The Sisters built a new school with three classrooms behind Ss Alban & Stephen Catholic Church on Beaconsfield Road. They also opened a convent called Maryland. By 1934, the school had once again become so crowded that the children could not learn. The Sisters of Mercy bought some land in Vanda Crescent, and in 1934, the new St Alban & St Stephen School was opened! There was enough room for 160 children, and all of the teachers were nuns.
It is very important to remember how our School was founded. Without the Sisters of Mercy, our wonderful School would not be here today!
Last week, we celebrated the contribution of the Sisters of Mercy with a special service and tree-planting ceremony led by Fr Michael on our lower site. The Pupil Chaplains retold the story of the founding of our School and helped to plant two beautiful trees. The magnolia 'Heaven-scent' tree will bloom with beautiful white flowers, and the Japanese maple tree will have red and green leaves in the colours of our school.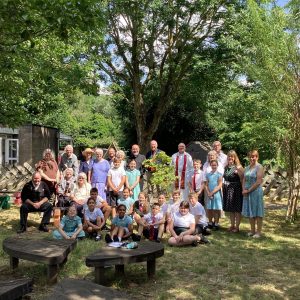 Thank you to the Sisters of Mercy, the Mercy Associates, Frs Michael and Andrew and all those who helped to make the day so special.
A particular thank you to Sister Maura who read us one of her favourite poems, 'Trees' by Joyce Kilmer.