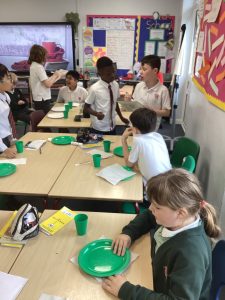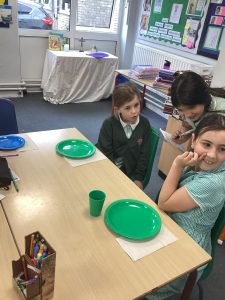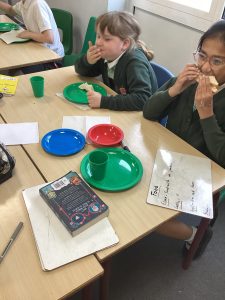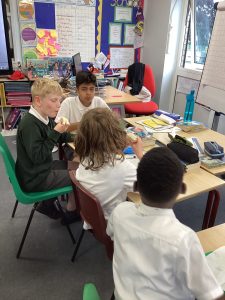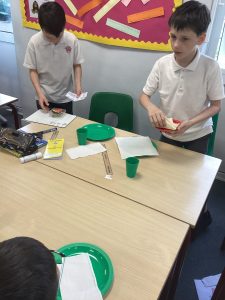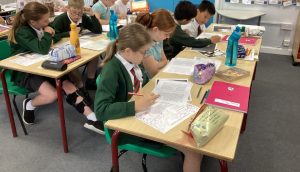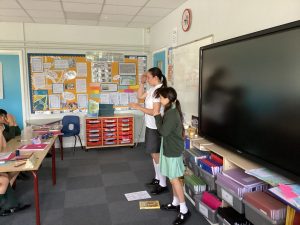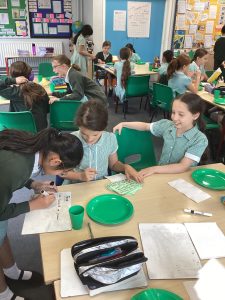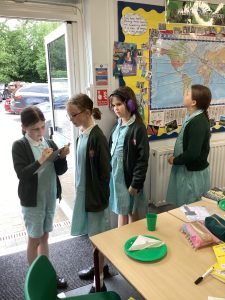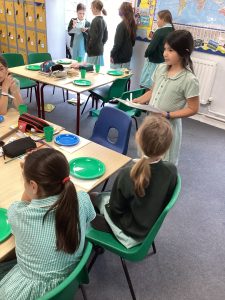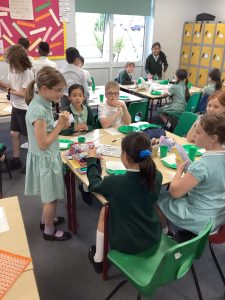 This week Year 5 were treated to a role play that took place in a French cafe.  Thanks to our wonderful French teacher, Mme Harvey, the children had the opportunity to practise their French language skills in a cafe setting.  What's more is that they had real food!  Sandwiches, croissant and even chocolate cake.  Ask your child if they can recall any of vocabulary from the afternoon.
You can also see here some photos of 5A in their whole class guided reading.  It is such a wonderful time to work with partners and share ideas about the text, as we build all our VIPERS skills together (VIPERS: Vocabulary, Inference, Prediction, Explanation, Retrieval, Sequencing/ Summarising). I am always very impressed by the children's diligence and cooperation with learning partners in our sessions.  No wonder we have such fabulous readers!
Finally, I wanted to share a photo of our Collective Worship that was led by two pupils in 5A this week.  Ami and Alexa chose to base their assembly on the theme of "Transition" and encouraged their classmates to share their fears about the move to Year 6.  We had a wonderful discussion and I was thoroughly impressed by the maturity shown by the two girls, and the class as a whole.  With transition in mind, Mr Hegarty and myself are looking forward to our day with our new classes next Thursday.  We have had such wonderful feedback from pupils and parents that we felt extremely lucky to be part of such a wonderful school community.